Kitchens are one of the most-used rooms and a hub for family activity. From breakfast time to family dinners, the kitchen sees use daily and often becomes a gathering space for residents and guests alike. These are just a few of the reasons that the kitchen needs custom storage to help you keep the room as neat and tidy as possible. Here are 8 kitchen storage ideas to consider.
Group Objects by Purpose – Organizing your kitchen by category can be a big time-saver. Designate specific areas for baking supplies, everyday use, and items for guest or party use creates a flow and sensibility in your space.
Store Items by Frequency of Use – Keep the most used items readily available and close to the area where they're used. Dishes that are used for breakfast every morning should be easily accessible, while serving platters and gravy boats can be stored in high or out of the way cabinets.
Use Your Wall Space – Consider using the empty wall space in your kitchen for wall pegs. Larger pegs can hold aprons and small pegs can hold kitchen cloths, potholders, and towels.
Create a Cooking Zone – Use the space directly adjacent to the stove to store cooking items for easy access. Pots and pans are often stored in cabinets, but can also often be stored in drawers.
Divide Drawers and Cabinets – Customize your drawers and cabinets to maximize their function sometimes requires the use of dividers or wire racks. Use silverware dividers or office supply organizers to organize the insides of larger drawers and keep things tidy.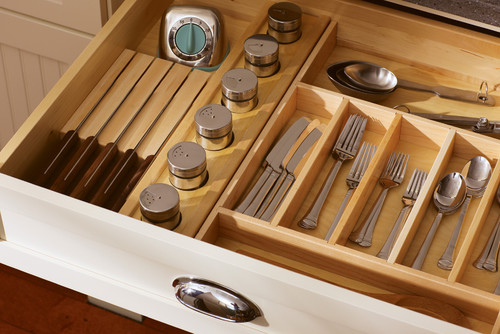 Utilize Cabinet Undersides – The undersides of higher cabinets are often unused. With small kitchens in particular, using every available inch will maximize the room's functionality. Consider mounted lighting, cookbook holders, or paper towel and dish rag hooks.
Create a Closet Pantry – Many kitchens have built in pantry space, but especially in smaller or older homes, this storage space may be missing. Why not use a nearby closet to store less-used bakery items and dry goods? If it's not something you're using every day, chances are you won't miss having it in the kitchen.
Organize Shelves and Counters – Lazy Susans and installable racks and drawers are great ways to use every inch of space while keeping kitchen items easily accessible.
Renewal Design-Build is located in Decatur, GA, and we provide a variety of remodeling services for homeowners in the Atlanta area. Give us a call at 404-378-6962 or use our contact form to schedule an appointment to discuss your kitchen remodeling ideas.