Kitchen design trends got really colorful throughout 2014. Some of these trends have made headlines where others are merely a flash in the pan. How do you distinguish between something enduring vs. a fad that will be over by next year? Here are some of the current trends we are seeing in kitchen design.
Colorful Kitchen
Homeowners have really started showing off their personal tastes in the most recent remodeling projects. They are becoming bold with color choices, like a dark blue kitchen wall with bone cabinets and quartz countertops. Many appliances such as dishwashers, ranges and refrigerators are now available in bright hues.
Streamline the Room
Straight lines, muted tones, and a good combination of dark and bright accent pieces really make a kitchen shine. One of the most popular trends in kitchen design for 2014 is the addition of built-in appliances. The refrigerator is hidden behind a door that looks like a closet door and matches the rest of the room. The microwave follows suit and is no longer a stand-alone piece of countertop space hogging furniture. Some homeowners are even going for a built-in area for the coffee maker. When it comes to custom kitchen design, the sky is the limit!
New Kitchen Lighting Trends
Under-cabinet LED lighting and over-island LED lighting are very popular this year. LED lighting for the kitchen is very cost effective, and bright enough to really allow you to see what you're doing. Food prep areas need sufficient lighting in order to prevent mistakes while cooking. And let's face it; over cabinet and under cabinet lighting is just cool!
New Faucets
Everyone loves the convenience of the pull-out faucet, right? No need to have a faucet and sprayer as two separate entities. It saves space and makes the area look so much cleaner. This year some homeowners also included no-touch electronic faucets in their kitchen design. This seems to work better for a secondary sink where most of the food preparation takes place.
The island is a very popular workspace, and working with a variety of foods requires a lot of hand washing to prevent contamination. The knobs or handles catch a lot of germs each time you turn the water on or off. This risks the very thing you're trying to avoid – contamination of your food. An electronic faucet prevents that altogether.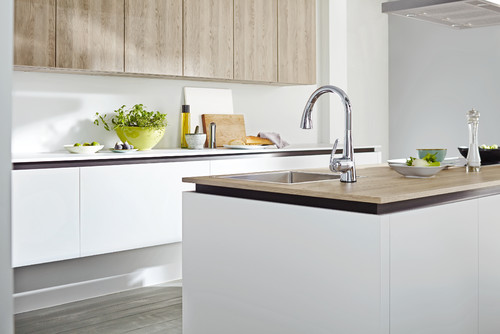 A Place for Pets
Some homeowners block the kitchen with pet gates while others welcome their pet into every part of the home. This section speaks to the latter group of homeowners. You likely have a designated spot for pet food and water bowls. Let's take that up a notch and think about actually creating a permanent spot in the kitchen that is out of the way and very convenient for your pets.
The end of a row of cabinets, a lower-tier drawer removal, or the end of an island make fantastic spots for pet food bowls. Modify that idea even further by adding a faucet nearby so it's even easier and more convenient to fill the water bowl.
What Are Your Thoughts?
What would you consider a kitchen trend for 2014? What do you think about the ones we mentioned here, will they last? Would you like to see more about kitchens or would you prefer we cover other areas of the home in next month's blog posts? Let us know your thoughts and ideas by commenting in the comments section or emailing us through the Contact Us page on the site!